About Us
Our passion is to open horizons to true island life.
Our mission is to provide cultural experiences on Naxos island in a unique and authentic way which promote the island's cultural heritage and enhance sustainable tourism development.
Katia Mavrelli is an experienced Greek tourism professional with a history of demonstrated success in her career in the cultural tourism industry.
Born and raised in Greece; an ancient land with a rich history and culture, she developed early on a passion for her Greek heritage. While still pursuing a Classical Studies Master's degree from Aristotle University, focusing on ancient Greek Philosophy and Art, she began her career as a Licensed Guide certified by the Greek National Tourism Organization. She developed extensive experience in tourism working also as a Tour Program Director for well known International Tour Operators where she lead groups throughout Greece and other parts of the world.
While exploring world cultures, she enriched her Classical Studies with a second Master's Degree in Management from Harvard University. Following her dream and now empowered with rich knowledge in both Cultural Tourism and Management, she created 'Inspiration Ventures Greece,' her official Travel Brand in Athens, which specializes in cultural programs and experiential activities throughout Greece.
On Naxos, an island that has remained one of the most authentic cultural paradises of Greece, Katia launched Naxos Cultural Tours. Through this innovative boutique tour operator, she aims to give visitors unique opportunities to discover the island's treasures and local life beyond the standardized tourist activities. And, always, with a personal touch.
With a strong team of Certified  Licensed Guides, we invite travelers to discover Naxos' past and present through the lens of our insiders' expertise in island tours.
All our guides have an excellent command of the English language and academic level of historic knowledge, therefore they can provide transformational travel experiences which are culturally rewarding and, simply, great fun!
Antonis Pothitos– Delos & Mykonos Guide
"Sparked by the beauty of the Aegean landscape, the shining marble, the lessons learned from legend, awesome Greek food and authentic island moments … there is a whole, fascinating, hidden world waiting to be discovered on Naxos, beyond sightseeing.
By unveiling the cultural wealth of inland Naxos, our goal is to enrich a traveler's visit with unique and authentic learning experiences", Katia says.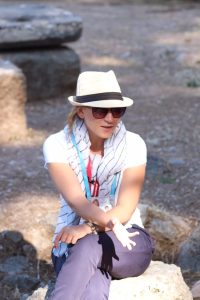 Naxos Cultural Tours operates through Inspiration Ventures Greece, a certified Travel Agency by the Ministry of Greek Tourism.
License Number: 0259E60000522301